T-shirts - Stickers - vinyl signs - Video Production
PBD = Custom T-shirt Printing - Stickers - Vinyl Banners - Flyers - posters & Multi Media Mad Scientists!
Produced by Deuce is located in Central North Florida and in East Tennessee. We offer local delivery to many different locations throughout FL and TN.

Please feel free to contact us about local delivery to your area. In some cases local delivery can be free or arranged to be met at a venue of your choice.
There are many different printing options to choose from on this site. Please contact us if you have any questions regarding your order.
Music and Social Media Marketing !
We of course cater to many businesses but we also take pride in our knowledge and research in the music industry. In this day and age when CD Sales are not necessarily the bread winner, its smart to be prepared before you head out on the gig trail. With CD Sales declining and the digital revolution taking place, its smart to safeguard your music. CDs are now becoming like we have seen with vinyl records: having their place in nostalgic value while fighting the rise of file sharing and other media deliveries. This has left the music scene looking to concentrate efforts in new places for revenue streams to keep projects funded.
CD packaging is important to think about when duplicating or replicating, but also consider that a T-shirt cannot be downloaded, and other than fan-made T shirts, there are other options in marketing your merch table. Unique CD duplication packaging is available to set you apart from the competition and more and more artists are packaging their CDs or DVDs with custom methods.
Of course, whatever your CD project has in mind, we will do our best to accommodate your duplication or replication to the fullest, and help come up with innovative new ideas to help make your CD stand out from the others on the shelf. Its hard to copy a Tee shirt, and isn't something likely people will be copying or silkscreening just one for themselves. More the reason that they take home a shirt when they are at your show. Maybe they decide to go home and download your CD ( which of course is not helpful) but when they leave with the shirt this only means better things for your future! CD duplication or replication, can also have many different options. Silk Screening shirts, Direct to Garment and Heat press transfers are options that we can produce for you and your business! We offer some of the best in-style brands, and the most economical choices for Tee printing today.
Oversized T-shirt printing?

Oversized shirt print, up-to or over the colar, and extra-oversized tshirt printing formats are available. Due to the nature of the setup in these runs, please contact us directly for an exact turn around time, as some processes can take much longer than the conventional screen printing methods! We do specialize in foil printing or hotstamping print offer a variety of different foil colors, choices, and methods to make your design pop! Our graphic design team has been seen in malls, boutiques, on the merch tables of national touring acts, and all throughout the web. Their skills are exceptional, and if you are looking for an amazing design or logo creation for your project, you have come to the right place.


What we do!

Not just the printing of T-shirts or Stickers, Flyers, Posters, CDs/ DVDs, business cards and the like... we can also come up with a collaborative solution effort of appeal that will satisfy you and your customers! Please take a look at our different CD and DVD Duplication and Replication packages. We have also combined other promotional print Items like Posters and Flyers into bundled combo packs that save you more money in the long run! Copying flyers, posters, CDs, custom silk screened tshirts ... whatever your copying need... we have you covered. We offer low minimums on duplication and offer some of the best packaging for your CD when it comes to small run duplication. We also have you covered on bulk run replication and can package in a wide array of popular professional retail ready formats. Finding a solution for you is our priority. We will do the research if its a new process, we will work with you to make it happen, we will let you know if it is within our range. We want you to be happy. CD and DVD Duplication / replication has a similar process involved with screen print. Depending on what your artwork is conveying, you may find silk screening the more economical choice in duplication or replication. When dealing in smaller duplicated quantities, it may be a better option to look into inkjet printing to help keep costs within your budget.

Barcodes

Barcodes are also available and we have a guide that explains all the frequently asked questions when it comes to barcoding. The big one of course "Do I really need a barcode? " CLICK HERE FOR BARCODE and BARCODE BUYING INFO.
Street Team Services and Marketing Consulting are services that we often assist our clients with. We can help guide you in setting up effective campaigns that will boost your fan base and not waste money in areas that are often overspent. We can provide Posters to sell at your merch table, give to your street team members, and of course flyer distribution are all grass root marketing keys that should not be overlooked. Posters and flyers can also be made where you aren't printing just one poster or flier per event. Leave a little room on the poster for specific dates, signings, releases, or other news to be recorded. This tip and other printing information can be found on this site. Contact us for more one on one personal attention for your business! We do offer personalized CD printing, and duplication if you want to have pre-printed CD stationary for your business or for your personal desk for backing up data. DVD authoring, DVD Editing, and DVD Copying from various formats are also available in other portions of this site.
Please read our Artwork Read Me before submitting your artwork. You may also find solutions with the creation of your design and templates for all the packaging we have to offer: CLICK HERE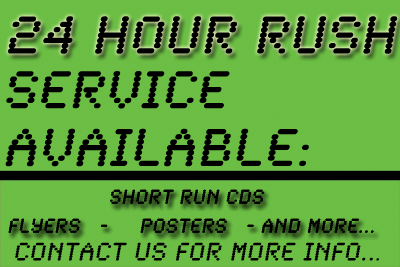 We offer local Delivery solutions to Central Florida and portions of East Tennessee including:
Jacksonville FL, Daytona Beach FL, Bunnell FL, St. Augustine Beach FL, Palm Coast FL , Deland FL, Palatka FL, Gainesville FL, Sanford, Orlando FL, Apopka, Astor FL, Pierson FL,Citra FL, Ocala FL, Debary FL, Deltona FL, New Smyrna FL, Port Orange, South Daytona Beach FL, Knoxville, Madisonville TN, Morristown TN, Sevierville TN, Tellico Plains TN, Telico village TN, Maryville TN, Lenoir City TN, Sweetwater TN, Athens TN, Chattanooga TN, and of course just about everywhere else in between ! We will even deliver to your show or ship to you on the road during a tour to keep everything a steady business.
Quick Links:
producedbydeuce.com Coupons on tjoos.com
PBD Media = T-shirt Printing , CD Duplication and Web Design
Madisonville Graphic Designers